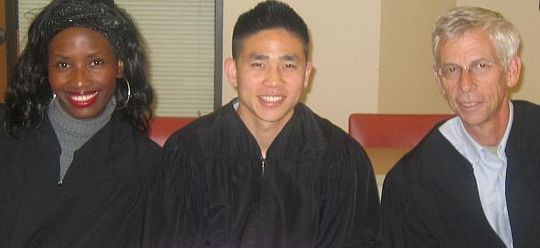 I told you all about my first visit to UC Davis School of Law to judge its intra-moot court competition in October. At that event, I was invited to return to judge one of the teams who would compete nationally in one of the moot court competitions in New York. I did. Well, I was excited to receive a letter from UC Davis Law School, yesterday, that the team (composed of two members) I judged for the National Moot Court Competition in New York made it to the semi-finalist round; and also won 1st and 2nd best oralist for the preliminary rounds, respectively. YES! Pertinent excerpts from the letter:
"Thank you so much for helping our team prepare for our moot court competition. We ended up reaching the semi-finals of the tournament. [S] and I were named the 1st and 2nd best oralists for the preliminary rounds. Your feedback was very helpful. . . "
The school of law Moot Court program has also invited me to participate as a judge for the UC Davis School of Law Asylum Tournament on February 5th, 2011. The school will host teams from around the country as all teams compete for the coveted trophy. I am excited! I can't wait to watch and listen to these young dynamic future legal minds.
Cheers,
Uduak
p.s. The photo is from October of this year when I judged the intra-moot court competition.