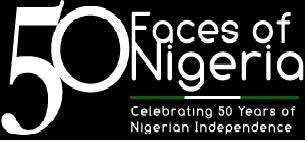 Nigeria celebrates 50years on October 1st, 2010 and I am truly honored and humbled to be a part of the 50 Faces of Nigeria; a new groundbreaking documentary spotlighting fifty of the most prolific Nigerians around the world. The film captures the true heart and soul of Nigeria and its people like never before.
The fifty include inspiring Nigerians in  the fashion and entertainment industries such as  Singer [N]neka, Designers Chris Aire and Lisa Folawiyo (Jewel by Lisa), Storm 360 Executive Obi Asika, Publisher Bola Atta and Supermodel Oluchi.
"These influential Nigerians from all over the world are being interviewed with the overarching question: "Is Nigeria truly free?" While stirring the hearts and spirits of every participant and viewer, the documentary dispels the stereotypes of the country's "lack" in the area of progress and at the same time creates a platform for making lasting changes that will benefit this generation and those to come."
Please visit the site and stay tuned.
Directed By: Korstiaan Vandiver
Produced By: Chika Chukudebelu, Faith Kakulu, Kim Vandiver, Korstiaan Vandiver
Website: www.50FacesofNigeria.com
Facebook: Join the facebook community here.
YouTube Channel: www.YouTube.com/user/50FacesofNigeria
Twitter: www.Twitter.com/50FacesNigeria
Indie GoGo: http://www.indiegogo.com/50FacesofNigeria