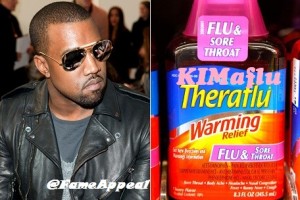 A clever and funny article by my Fashion Law colleague at Fame Appeal.
I'll let you all check it out. He references cases discussed here on Fashionentlaw.com such as the Abercrombie & Fitch v. The Situation case.
Now we've been experiencing some awesome weather this Spring season, nonetheless cold season is not over according to Hip Hop mogul Kanye West. Kanye's new tune;"Theraflu; "relates" to the over-the-counter product used to help relieve cold and flu symptoms that millions of consumers rely on. Is this the beginning of a legal cold for Kanye West, (being that he has a new beau) or does the cough medicine enjoy the free advertising?

The issue here is whether a company will take affirmative steps to break an association with a celebrity when it wants to ensure brand protection and brand reputation.
Fame Appeal has the full story.