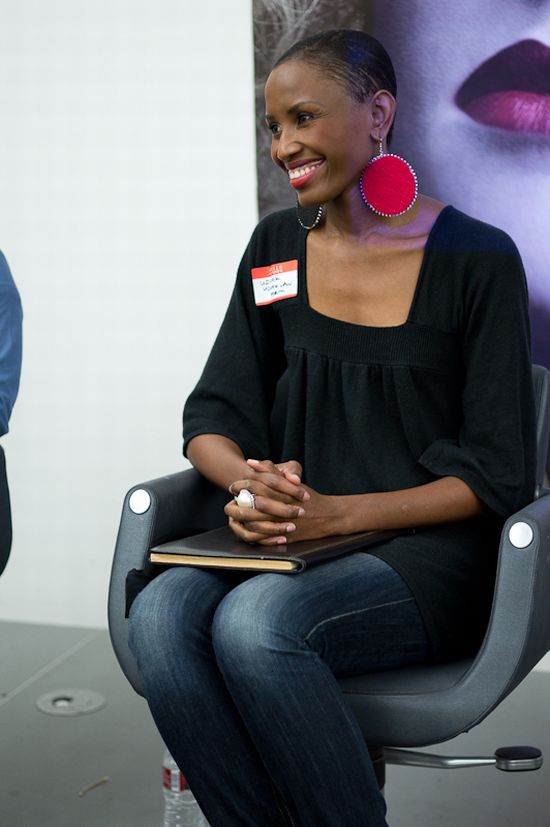 I had the privilege of joining panel speakers Willo O'Brien of Willo Tons, Brad Carrick of Solz Shoes, Sabrina Bruning of Internet Servant and Vishal Kalia of RAF9 to discuss the topic, "Brand Your Business Utilizing Social Media Marketing."
The seminar was held at Pigment Cosmetics located at One Market Street in San Francisco. The Pigment Cosmetics store has several rooms, one of which is called 'the Studio,' and is where  the seminar was held. The  Studio is a nice modern yet intimate room. The backdrop for the stage where we sat to share our knowledge was a beautiful canvas of a woman with make up on her face. The nice cozy ambience was finished off with a spread of simple refreshments consisting of tasty baked goods, grapes and water for guests.
The event began with three companies (Abrot Bags, talkTECH and RAF9) who made product presentations to the audience. It was interesting to see what they all had to offer, particularly from a fashion meets technology perspective. For me, RAF9 was particularly interesting as its CEO, Kalia who was also one of the panel speakers for the evening, made a presentation where he explained his product/service would permit social media users to become essentially brand ambassadors for popular and emerging brands. This meant, as he explained, such brand ambassadors  would earn discounts from some of their favorite fashion brands everytime they discussed those brands on social media.
Finally, it was our time, as panel speakers, to step up and share our experiences on how to 'Brand Your Business Utilizing Social Media Marketing.' Moderated by Owen Geronimo, our panel answered numerous questions posed to us. Ultimately, the key take away was that social media marketing is essential to engage in today's digital age if you run a business or are a creative talent. The statistics are staggering on the impact of business to business and business to consumers who use social media and their impact. We discussed the big social media giants i.e. Twitter and Facebook, but we also discussed other social media platforms. We covered other social media applications, the time required to be dedicated to social media, the need for a schedule to manage and organize content,  social metrics among many topics.
I appreciated the privilege and the opportunity to share my insights with the SF FAMA audience. I also appreciated, very much, seeing Filmmaker Temi Ojo, a college mate of mine who I had not seen for a little over ten years, who came out  to support me. Ojo had seen my event listing on my Facebook page and decided to show up to support me. Talk about the power of social media.
Enjoy pictures below courtesy SF FAMA
Cheers,
Uduak
Photocredit: Tiangsing
Fashionentlaw™ is the brainchild of Uduak Oduok (Ms. Uduak), an ex-fashion model and industry veteran turned Fashion and Entertainment lawyer. The law blog discusses hot topics in pop culture arising primarily out of the fashion industry.
As a legal practitioner, Ms. Uduak has over two decades of experience counseling individuals and businesses within and outside the creative community. She has counseled designers, apparel manufacturers, models, photographers, retailers, graphic designers, musicians, public relations specialists, and athletes, among others, on diverse legal issues including business formation, licensing, trademark and copyright matters, contracts, intellectual property and contract disputes. She is also an Adjunct Professor.
To arrange a consultation to discuss your case, contact her today at 916-361-6506 or email (uduak@ebitulawgrp.com).
Full bio: Ms. Uduak Bio/
Twitter @uduaklaw