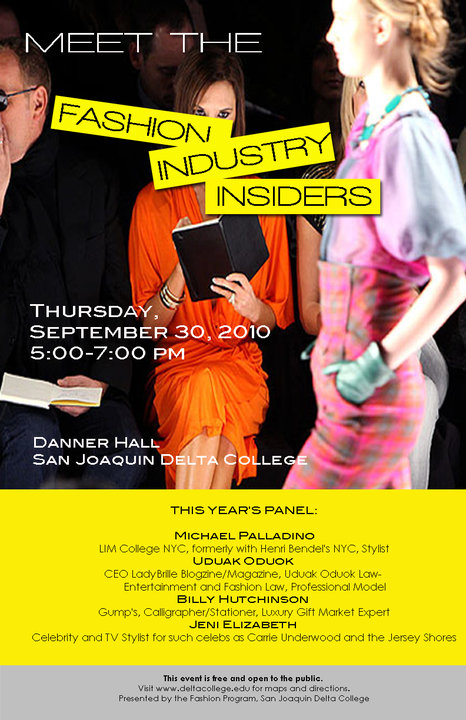 I will be speaking on Fashion Law, among other topics, at Delta College in Stockton in an event titled, 'Meet the Fashion Industry Insiders.' The event will be held on Thursday, September 30th from 5:00-7:00 pm in Danner Hall on the Delta College Campus.
I will be one of four fashion leaders who will present my perspective on the industry, offering advice on how to get your foot in the door, sharing insiders' myths about the fashion business and the "real" world of fashion, and of course the legal nuances to watch for.
Other panelists include:
MICHAEL PALLADINO:
LIM College NYC, formerly with Henri Bendel's NYC, Celebrity Stylist
BILLY HUTCHINSON:
Gump's, Calligrapher/Stationer, Luxury Gift Market Expert
AND
JENI ELIZABETH:
Celebrity and TV Stylist for such celebs as Carrie Underwood and the cast of Jersey Shore
I hope you can join me.
Fashionentlaw™ is the brainchild of Uduak Oduok (Ms. Uduak), an ex-fashion model and industry veteran turned Fashion and Entertainment lawyer. The law blog discusses hot topics in pop culture arising primarily out of the fashion industry.
As a legal practitioner, Ms. Uduak has over two decades of experience counseling individuals and businesses within and outside the creative community. She has counseled designers, apparel manufacturers, models, photographers, retailers, graphic designers, musicians, public relations specialists, and athletes, among others, on diverse legal issues including business formation, licensing, trademark and copyright matters, contracts, intellectual property and contract disputes. She is also an Adjunct Professor.
To arrange a consultation to discuss your case, contact her today at 916-361-6506 or email (uduak@ebitulawgrp.com).
Full bio: Ms. Uduak Bio/
Twitter @uduaklaw