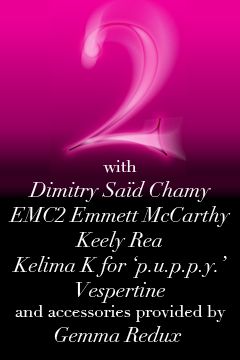 2nd ANNIVERSARY CELEBRATION
A celebration of our first two years and Fashion Law Pop-Up Clinics
Friday, September 7, 2012
Last season, the Fashion Law Institute brought you a groundbreaking CLE program, "The Law of the Fashion Show."
This season, we bring you the fashion show itself.
During New York Fashion Week in the tents at Lincoln Center, a select group of designers with whom we've worked will present capsule collections in celebration of our 2nd Anniversary and our Fashion Law Pop-Up Clinic program. Designs by EMC2 Emmett McCarthy (womenswear), Keely Rea (swimwear), Kelima K for 'p.u.p.p.y.' (bridal/womenwear), and Vespertine (cycling safety wear) will be accessorized by Gemma Redux (jewelry) and illuminated via a light installation by Dimitry Saïd Chamy. As an added bonus to accompany these many facets of fashion, each designer will share with us a favorite legal tip! . . "
Fashionentlaw™ is the brainchild of Uduak Oduok (Ms. Uduak), an ex-fashion model and industry veteran turned Fashion and Entertainment lawyer. The law blog discusses hot topics in pop culture arising primarily out of the fashion industry.
As a legal practitioner, Ms. Uduak has over two decades of experience counseling individuals and businesses within and outside the creative community. She has counseled designers, apparel manufacturers, models, photographers, retailers, graphic designers, musicians, public relations specialists, and athletes, among others, on diverse legal issues including business formation, licensing, trademark and copyright matters, contracts, intellectual property and contract disputes. She is also an Adjunct Professor.
To arrange a consultation to discuss your case, contact her today at 916-361-6506 or email (uduak@ebitulawgrp.com).
Full bio: Ms. Uduak Bio/
Twitter @uduaklaw