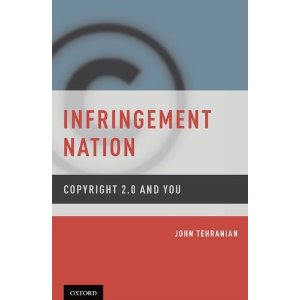 I attended the seminar "The Ins And Outs of Clearances . . . Celebrities And More" at the recently concluded 2011 Licensing International Expo. The seminar sought to address the important issues to consider when using a celebrity's name, image, likeness or works to promote a product or company.
The panel covered a lot of the issues and concepts I discuss here regularly. Namely:
1. Trademark Law
2. Copyright Law
3. Rights of Publicity
A standout for me on the panel was John Tehranian, a practicing attorney and Professor. He could really articulate legal concepts in an easy straight to the point way that I thought the average person could get. I was so impressed by him, I interviewed him right after his presentation on the panel. Tehranian is a graduate of Harvard University and Yale Law School and has authored two books. The first is called Whitewashed (New York University Press, 2009) and the second is Infringement Nation: Copyright 2.0 and You (Oxford University Press, 2011). I am particularly intrigued that 'Infringement Nation' takes on millions of copyright violation by the average person in a new digital age and answers the important question of how existing copyright laws fit in an ever changing and shifting digital paradigm.
I received a review copy of the book and look forward to reading and offering my opinion on it. I do expect the wit, intelligence and articulateness I saw Tehranian display at the seminar to be reflected in his book; and trust I will enjoy reading every page.
For more information about Infringement Nation or to purchase it, feel free to visit the book's Amazon page.
Cheers,
Uduak
Fashionentlaw™ is the brainchild of Uduak Oduok (Ms. Uduak), an ex-fashion model and industry veteran turned Fashion and Entertainment lawyer. The law blog discusses hot topics in pop culture arising primarily out of the fashion industry.
As a legal practitioner, Ms. Uduak has over two decades of experience counseling individuals and businesses within and outside the creative community. She has counseled designers, apparel manufacturers, models, photographers, retailers, graphic designers, musicians, public relations specialists, and athletes, among others, on diverse legal issues including business formation, licensing, trademark and copyright matters, contracts, intellectual property and contract disputes. She is also an Adjunct Professor.
To arrange a consultation to discuss your case, contact her today at 916-361-6506 or email (uduak@ebitulawgrp.com).
Full bio: Ms. Uduak Bio/
Twitter @uduaklaw