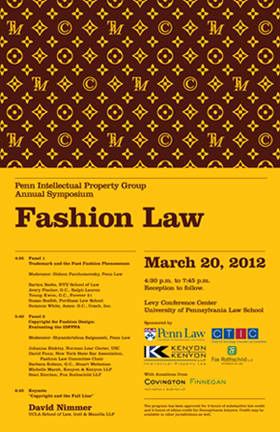 After a slightly long hiatus (a little over two months), I am back to blogging on Fashionentlaw.com. The emphasis going forward are all things Fashion Law with a smaller percentage on Entertainment Law. The site has also received a make over to reflect the direction I want to go with it.
I will be catching up on interesting fashion law cases that I am yet to discuss here and hope you all find them informative and relevant. Speaking of relevant and informative, University of Pennsylvania holds their annual intellectual property law forum. This time, the emphasis is on fashion law. The school by the way received a threat of a lawsuit from Louis Vuitton based on their flyer.
PIPG Symposium
Event Type: Conference/Symposium
Location: Golkin Hall Auditorium

Tuesday, March 20, 2012
4:30 PM – 7:45 PM
Calendars:
Alumni Events,CLE Events,Conferences & Lectures,Faculty Events,Open to the Public Events,Staff Events,Student Events
Sponsor: Penn Intellectual Property Group

PIPG's fourth annual symposium features a keynote address from celebrated copyright scholar DAVID NIMMER, entitled "Copyright and the Fall Line." Two panels on current issues in fashion law will precede the keynote.

The first panel will discuss the adequacy of trademark law to meet the challenges of the fast fashion phenomenon. Speakers include Barton Beebe (NYU Law), Avery Fisher (GC, Ralph Lauren), Young Kwon (GC, Forever 21), Susan Scafidi (Fordham Law), and Suzanne White (Assoc. GC, Coach, Inc.).

The second panel will explore the IDPPPA, the latest Congressional proposal to extend copyright protection to fashion design. Speakers include Johanna Blakley (Managing Director, Norman Lear Center at USC), David Faux (NYS Bar Assoc. Fashion Law Committee Chair), Barbara Kolsun (GC, Stuart Weitzman), Michelle Marsh (Kenyon & Kenyon, LLP), and Staci Riordan (Fox Rothschild, LLP).

A reception will follow. . .

This program has been approved for 3 hours of substantive law credit and 0 hours of ethics credit for Pennsylvania lawyers. For CLE credit please bring a check in the amount of $30 made out to The Trustees of the University of Pennsylvania.

With thanks to presenting sponsors Kenyon & Kenyon, LLP, Fox Rothschild, LLP, and CTIC, and to donors Covington & Burling, LLP and Finnegan, Henderson, Farabow, Garrett & Dunner, LLP.
Fashionentlaw™ is the brainchild of Uduak Oduok (Ms. Uduak), an ex-fashion model and industry veteran turned Fashion and Entertainment lawyer. The law blog discusses hot topics in pop culture arising primarily out of the fashion industry.
As a legal practitioner, Ms. Uduak has over two decades of experience counseling individuals and businesses within and outside the creative community. She has counseled designers, apparel manufacturers, models, photographers, retailers, graphic designers, musicians, public relations specialists, and athletes, among others, on diverse legal issues including business formation, licensing, trademark and copyright matters, contracts, intellectual property and contract disputes. She is also an Adjunct Professor.
To arrange a consultation to discuss your case, contact her today at 916-361-6506 or email (uduak@ebitulawgrp.com).
Full bio: Ms. Uduak Bio/
Twitter @uduaklaw