Hi everyone. I hope your week is going well. This is a reminder that I will be presenting a Fashion Law seminar titled 'Fashion Law 101: Legal Issues in the Fashion Industry' at the International Academy of Design and Technology on October 7th, 2013.
Please check out the details in the attached flyer, register at www.californialawyersforthearts.org or you can call (916) 442-6210 or email lisa.camhi@calawyersforthearts.org (please include your full contact details).
I hope to see you there!
Cheers,
Uduak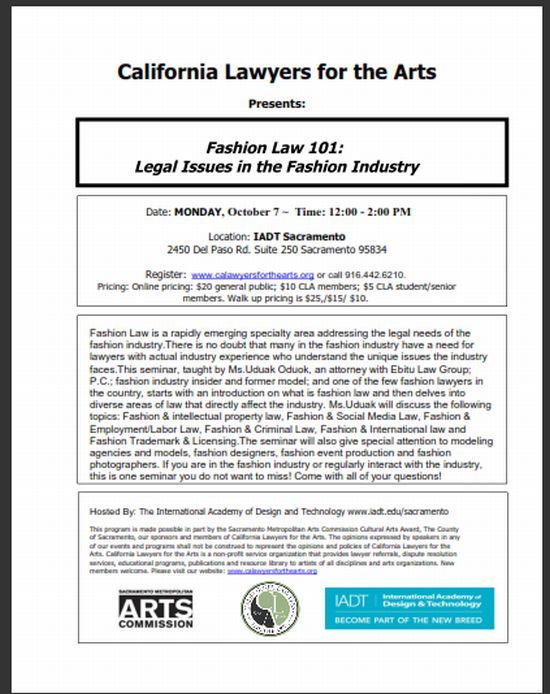 Fashionentlaw™ is the brainchild of Uduak Oduok (Ms. Uduak), an ex-fashion model and industry veteran turned Fashion and Entertainment lawyer. The law blog discusses hot topics in pop culture arising primarily out of the fashion industry.
As a legal practitioner, Ms. Uduak has over two decades of experience counseling individuals and businesses within and outside the creative community. She has counseled designers, apparel manufacturers, models, photographers, retailers, graphic designers, musicians, public relations specialists, and athletes, among others, on diverse legal issues including business formation, licensing, trademark and copyright matters, contracts, intellectual property and contract disputes. She is also an Adjunct Professor.
To arrange a consultation to discuss your case, contact her today at 916-361-6506 or email (uduak@ebitulawgrp.com).
Full bio: Ms. Uduak Bio/
Twitter @uduaklaw