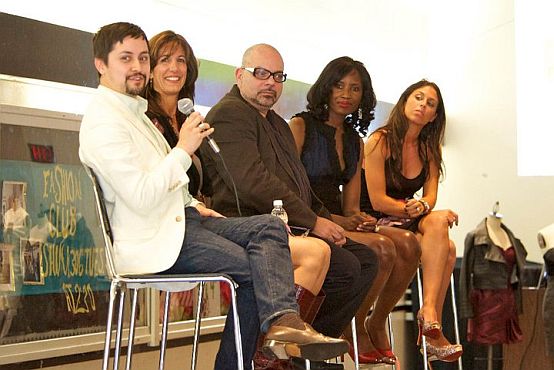 September is fashion month! Indeed the fashion shows kick off in New York and make their way around the world including stops at major fashion capitals of the world such as London, Paris, Milan for what is a fashion festival! On the heels of this exciting fashion week month, on September 26th, 2012, I will have the privilege of speaking, with my esteemed and highly respected fashion colleagues, at Delta College located in Stockton, California. My discussions will center around the fashion industry, with more emphasis placed on fashion law.
Bay Area and Central Valley fashion minded readers, please join me! See below for details about the event.
Cheers,
Uduak
Wednesday Evening, Sept. 26th, the Fashion Insiders converge on Stockton! Once a year, the Fashion Program at Delta College calls on fashion industry leaders to gather at the college and share their insight and advice with students, friends, other industry professionals and hopefuls, want-to-be designers and people interested in getting their foot into the fashion industry at a FREE once-a-year event.
MEET THE FASHION INDUSTRY INSIDERS is being held on
Wednesday, September 26th from 5-7:30 pm in the Tillie
Lewis Theater at Delta College (see www.deltacollege.ede for maps and directions. THIS EVENT IS FREE!!!)
This is the fourth year that the Fashion Program has presented this every year, and this is the fourth year that has been supported by so many industry friends and by the local community!
Meet some of the most influential professionals in the industry! Hear their tips, tricks, and truths about careers in the biz! They will dispel myths about careers in fashion and give insight on how to get a foot in the door to a fun and creative career!
Mingle, network, shake hands with some really cool people!
The panel changes each year, but the mixture is always exciting and interesting! This year promises not to disappoint with professionals coming from New York, Los Angeles and San Francisco. This year's impressive lineup of fashion insiders will be giving the audience the skinny on the industry:
Michael Palladino, former celebrity stylist and Director of Client Services with Henri Bendels and current Director of Student Life at LIM College in NY.
Jeni Elizabeth: Celebrity stylist for several major television shows and stars, with over 10 years of experience styling the who's who, her exclusive client roster includes Eva Longoria, Beyonce, Paris Hilton and Carrie Underwood. She is also a contributor for Us Weekly.
Billy Ola Hutchinson: Former Delta Fashion Student now Manager of Gump's in San Francisco, Stationer and Porcelain Designer for exclusive product for Gumps, calligraphy and hand lettering instructor at SF Center for the Book, featured in numerous publications and blogs including The Bold Italic, TISL Style, The Style Safari, named on of the "People Who Never Go Out of Style" by Couture Au Chocolat.
Susan Ashcroft: Author of Will Work for Shoes – The Business Behind Red Carpet Product Placement, about the art and style of red carpet marketing; Pioneer and Founder of Film Fashion, a groundbreaking agency that paired top celebrities with designers and fashion brands to gain international media coverage.
Uduak Oduok: Former fashion model, Fashion Lawyer and Partner at Ebitu Law Group, P.C., Founder Ladybrille Magazine.
The Meet the Industry Insiders event is completely FREE to anyone who wants to come and check it out!"
Photocredit: Stan Rapada
Fashionentlaw™ is the brainchild of Uduak Oduok (Ms. Uduak), an ex-fashion model and industry veteran turned Fashion and Entertainment lawyer. The law blog discusses hot topics in pop culture arising primarily out of the fashion industry.
As a legal practitioner, Ms. Uduak has over two decades of experience counseling individuals and businesses within and outside the creative community. She has counseled designers, apparel manufacturers, models, photographers, retailers, graphic designers, musicians, public relations specialists, and athletes, among others, on diverse legal issues including business formation, licensing, trademark and copyright matters, contracts, intellectual property and contract disputes. She is also an Adjunct Professor.
To arrange a consultation to discuss your case, contact her today at 916-361-6506 or email (uduak@ebitulawgrp.com).
Full bio: Ms. Uduak Bio/
Twitter @uduaklaw