The fallout continues for H & M over the controversial advertisement previously placed on its UK e-commerce website showing a black male model child in a green hooded sweatshirt with 'Coolest Monkey in the Jungle' inscribed on it.
The latest story is that the Swedish retail giant has closed its retail stores in South Africa after protests by South Africans, including some choosing to destroy/vandalize H&M property.
H & M had a similar 'Coolest Monkey' type controversy in South Africa in 2015, a week after launching in the country. Further, this development comes under a current global political climate where Africans and Haitians are upset at U.S. President Donald Trump for allegedly referring to African countries and Haiti as "sh*tholes".
Fashion advertisers, if you haven't already, read my article on this issue: "Coolest Monkey" Hoodie: 8 Ways Fashion Brands Can Avoid H & M's Dreaded PR Nightmare @HM #FashionLaw and learn some tips on how to avoid this kind of PR nightmare.
Twitter screenshot of H & M announcing closures. The company keeps it vague on what "area" it refers to. So, it is no surprise major news headlines are interpreting the closure to mean all of its stores in South Africa (17 stores).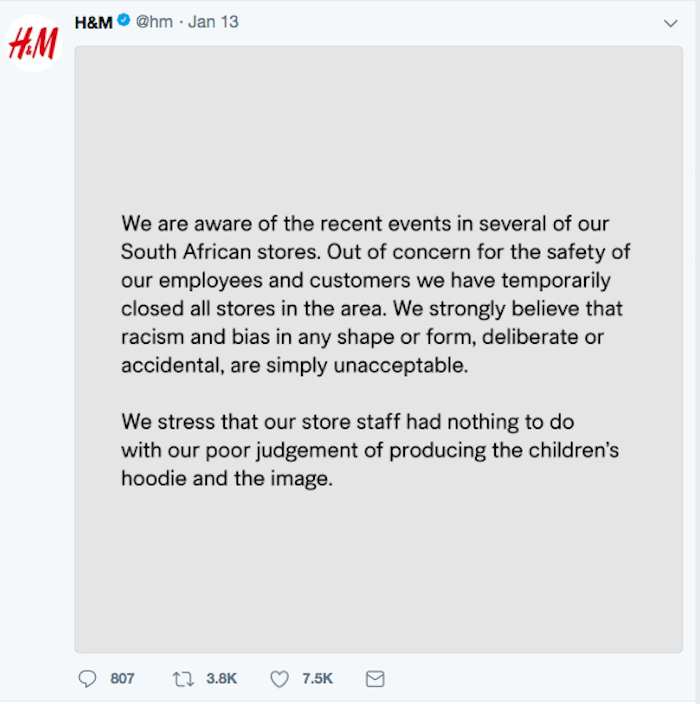 -Ms. Uduak
Photo Credit: CreditWikus De Wet/Agence France-Presse — Getty Images
Fashionentlaw™ is the brainchild of Uduak Oduok (Ms. Uduak), an ex-fashion model and industry veteran turned Fashion and Entertainment lawyer. The law blog discusses hot topics in pop culture arising primarily out of the fashion industry.
As a legal practitioner, Ms. Uduak has over two decades of experience counseling individuals and businesses within and outside the creative community. She has counseled designers, apparel manufacturers, models, photographers, retailers, graphic designers, musicians, public relations specialists, and athletes, among others, on diverse legal issues including business formation, licensing, trademark and copyright matters, contracts, intellectual property and contract disputes. She is also an Adjunct Professor.
To arrange a consultation to discuss your case, contact her today at 916-361-6506 or email (uduak@ebitulawgrp.com).
Full bio: Ms. Uduak Bio/
Twitter @uduaklaw