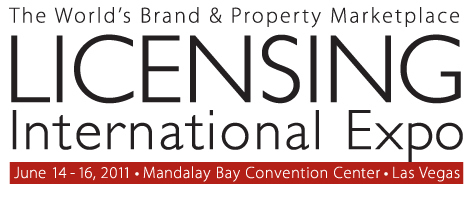 I have been invited and will attend the 2011 Licensing International Expo in a pseudo legal journalist/blogger capacity; to capture and discuss my views on some of the legal issues surrounding licensing across the fashion and entertainment industries. The Licensing International Expo is best described as Cannes Film Festival for the Licensing industry.
"What is licensing?
Licensing is the process of leasing a legally protected (that is, trademarked or copyrighted) entity – a name, likeness, logo, trademark, graphic design, slogan, signature, character, or a combination of several of these elements. The entity, known as the property or intellectual property, is then used in conjunction with a product. Many major companies and the media consider licensing a significant marketing tool.
Licensing is a marketing and brand extension tool that is widely used by everyone from major corporations to the smallest of small business. Entertainment, sports and fashion are the areas of licensing that are most readily apparent to consumers, but the business reaches into the worlds of corporate brands, art, publishing, colleges and universities and non-profit groups, to name a few.
Licensing can extend a corporate brand into new categories, areas of a store, or into new stores overall. Licensing is a way to move a brand into new businesses without making a major investment in new manufacturing processes, machinery or facilities. In a well-run licensing program, the property owner maintains control over the brand image and how it's portrayed (via the approvals process and other contractual strictures), but eventually reaps the benefit in additional revenue (royalties), but also in exposure in new channels or store aisles.
2011 Sample Confirmed Exhibitors
BBC Worldwide
CAPCOM
Cartoon Network
CBS
Disney Consumer Products
Dreamworks Animation
Freemantle
Hasbro
Marvel
Mattel, Inc.
Professional Bull Riders
Saban Brands
Warner Brothers Consumer Products
Wyland Worldwide
Who Attends?
* Licensees/Manufacturers
* Retailers
* Brand & Property Owners
* Advertising and Marketing Agencies
* Licensing Agents
* Promotional Strategists
* Licensors
* Wholesalers/Distributors
Fashionentlaw™ is the brainchild of Uduak Oduok (Ms. Uduak), an ex-fashion model and industry veteran turned Fashion and Entertainment lawyer. The law blog discusses hot topics in pop culture arising primarily out of the fashion industry.
As a legal practitioner, Ms. Uduak has over two decades of experience counseling individuals and businesses within and outside the creative community. She has counseled designers, apparel manufacturers, models, photographers, retailers, graphic designers, musicians, public relations specialists, and athletes, among others, on diverse legal issues including business formation, licensing, trademark and copyright matters, contracts, intellectual property and contract disputes. She is also an Adjunct Professor.
To arrange a consultation to discuss your case, contact her today at 916-361-6506 or email (uduak@ebitulawgrp.com).
Full bio: Ms. Uduak Bio/
Twitter @uduaklaw