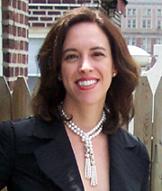 My fashion law colleague Susan Scafidi of Counterfeitchic and also the woman behind the first ever fashion law institute, Fordham Law, in the USA is busy preparing for the inaugural launch party for the law institute. She, however, has made time on her blog to update us on the Innovative Design Protection and Piracy Prevention Act.
Fashion Copyright is a hot button issue right now in the fashion industry and it would be interesting to hear what your thoughts are on fashion copyright.
Below is an excerpt from Susan's blog.
"The name wasn't my idea — let's get that out of the way first thing. But the new Innovative Design Protection and Piracy Prevention Act, IDPPPA or S.3728 to friends, is a significant step forward for both U.S. intellectual property law and for the fashion industry.

Speaking of friends, this bill has quite a few of them. It's the successor to the Design Piracy Prohibition Act (DPPA) introduced in the previous two sessions of Congress and in the House in April 2009, so the party's been ready to start for a while. Senator Charles Schumer (Chuck, since we're all on an informal basis here) introduced the bill along with 10 initial co-sponsors, as well as a thumbs-up from not only the Council of Fashion Designers of America, the initial proponent of protection, but also the American Apparel and Footwear Association, which had previously expressed some concerns. In other words, the creative designers and the companies traditionally more focused on manufacturing and distribution gathered around the table, talked to Chuck, and now there's a bill. . . "
Read the rest here.
Fashionentlaw™ is the brainchild of Uduak Oduok (Ms. Uduak), an ex-fashion model and industry veteran turned Fashion and Entertainment lawyer. The law blog discusses hot topics in pop culture arising primarily out of the fashion industry.
As a legal practitioner, Ms. Uduak has over two decades of experience counseling individuals and businesses within and outside the creative community. She has counseled designers, apparel manufacturers, models, photographers, retailers, graphic designers, musicians, public relations specialists, and athletes, among others, on diverse legal issues including business formation, licensing, trademark and copyright matters, contracts, intellectual property and contract disputes. She is also an Adjunct Professor.
To arrange a consultation to discuss your case, contact her today at 916-361-6506 or email (uduak@ebitulawgrp.com).
Full bio: Ms. Uduak Bio/
Twitter @uduaklaw