Often, when we discuss fashion law (still an emerging field), overwhelming attention is given to fashion designers and their intellectual property rights. Little, if any, is given to fashion models or racial discrimination within the industry affecting Black fashion models.  It appears it is time to have that discussion, from a fashion law perspective.
Actually. Wait. Stop. Before we proceed. Think about the different industry sectors in the United States. Is there any industry where it is permissible to discriminate against employees or independent contractors simply because the business owners envision red hair freckled faces or blonde hair blue eyed workers as the only persons that can execute their visions? Of course not, that would be ridiculous. Nevertheless, in the modeling industry, this discriminatory pattern and practice is not only encouraged but has been ongoing for decades.
Each season, as white models go through the anxiety inducing, yet exciting and monetarily rewarding fashion week crazy schedules: attending fittings, castings and ultimately booking highly coveted runway shows, their black model counterparts, their model sisters, sit on cold steps (figuratively speaking), at the entrance of the Mercedes Benz New York Fashion Week, hoping, praying and wishing for an opportunity not to be judged by the color of their skin but by their long legs and abilities to strut the runways in stilettos.
These black models, for decades, have been told, myself included, that the most viable opportunities for them are with beauty companies modeling black hair care products. Why? Well, the packaged myth, circulating for decades, is that "black don't sell." Even some Black and African designers have "drank the Kool aid" and bought into the myth. Further, even if black was to sell, black models are told the agency's fashion client already has that one black model; and worse, "aesthetically and artistically," does not envision using a black model for his/her 20th century interpreted fashion collection.
When that fashion designer client finally decides to use that one black model, she usually chooses a model that sells, for the most part, extreme polarities of who the black model is.
"Artistic" is therefore and historically has been interpreted to exclude the Black-American model; but include nothing short of a stereotypical and negative image of the African model from Africa i.e. bald hair, tribal facial paintings, complete with feathers, tragic war tales, female genital mutilation, poverty, famine and AIDS stories. Please reference my article on this topic here. To the degree the Black model does not fit such stereotype, then she must fit the other stereotype of wearing long hair weaves and having Anglo/European features. There is no in between, really.
For decades and until now, the fashion industry has escaped any accountability/liability with this discriminatory practices solely based on the argument that fashion is inherently "artistic." A designer has his/her own vision of how she wants to interpret fashion. Therefore, if a designer decides to capture fashion from the 20th century through the eyes of fashion forefathers such as Charles Worth; she should not be made to choose a Black model whose skin tone simply does not reflect the "artistic" fashion era the designer envisions.
The argument continues that when designers are forced to choose Black models, then what we do is stifle their creativity and freedom of expression, a right guaranteed by the United States Constitution. On its face, there appears to be merit to the freedom of expression argument but let's test the "stifling of creativity" argument.
In South Africa, South African designers, many of whom are Caucasians, use black models liberally for their Western inspired collections, which routinely include interpretations of 20th century fashion. So far, there appears to be no detrimental effect on creativity by virtue of such use. So, for the American designer and the American fashion industry, are we sanctioning discrimination under the guise of so called "art," "aesthetic," or "artistic value?"
Models in general already get a back of the bus treatment in the industry; which many are beginning to push against. But, this back of the bus treatment worsens when black models are involved. Is it time our industry gives this age ole inapplicable excuse a very good kick in the rear end so we can say goodbye to it, once and for all?
The wind appears to be blowing that direction. On the heels of the ongoing Spring/Summer 2014 Mercedes Benz New York Fashion Week show, Supermodels Naomi Campbell, Iman and ex-model Bethann Hardison have boldly declared war on these "racist act(s)" by American fashion designers. The trio who have long stayed at the frontlines of eradicating discriminatory practices against black models in the industry, argue that the deliberate denial and non-use of black models in these shows is racism.
Bethann Hardison through the Diversity Coalition sent a letter dated September 4th, 2013, to Diane von Furstenburg, President of the Council of Fashion Designers of America demanding a change in the status quo. She also launched a social media campaign prior to the commencement of fashion week; and has since engaged the media along with Iman and Naomi calling out industry colleagues such as Calvin Klein, Donna Karan, Marc Jacobs, BCBG Max Azria and so many more designers for this "racist act." See video and clip below.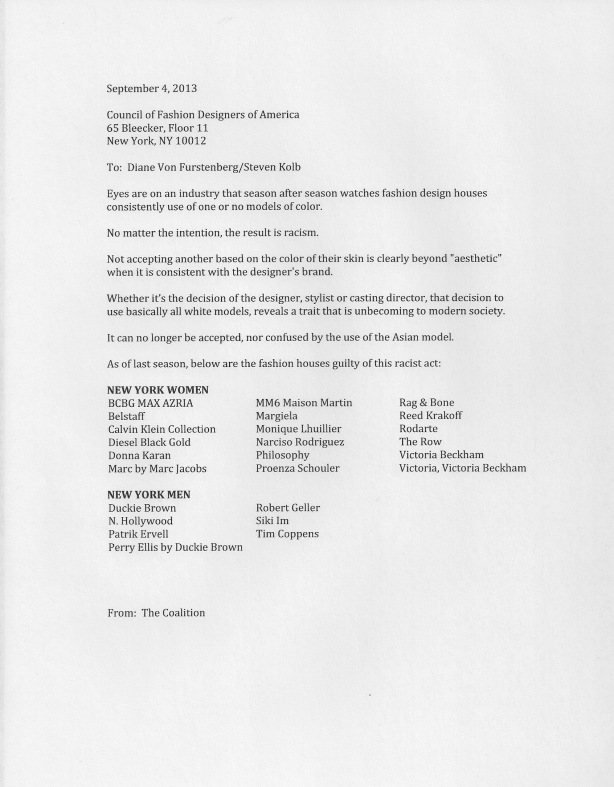 What does it take to change the status quo?
Looking beyond intellectual property rights, the seeming hallmark of fashion law, and delving into the messier yet important issues of Constitutional Law, we must ask the tough questions and get past the rhetoric to find solutions.
Since our Black supermodels say the actions of these designers constitute "racist act(s)," it triggers a legal analysis under a constitutional framework.
Let's look at the basic legal threshold that must be met to be successful in a claim like this.
Who is Being Harmed?
Black Models
What Practice Area are We Dealing With?
We are dealing with constitutional law. Fashion lawyers are called to deal with constitutional law issues as well. We are not limited to just trademark or copyright representations for the fashion client.
It is what makes the pursuit of a fashion law career very interesting and rewarding. Fashion law can take you across fields and practice areas. Further, under constitutional law, there are two main broad categories i.e. "procedural" constitutional law which deals with getting your claim into Federal court and keeping it there; versus "substantive" constitutional law which includes an analysis on individual rights.
What Specific Law Applies?
When individuals are harmed, we look to the individual rights guaranteed to them by the U.S. Constitution (equal protection, freedom of expression, freedom of the press, due process etc.), as applied to the states, through the 14th Amendment.
What Does the 14th Amendment Do?
It prohibits states from depriving any person of life, liberty or property without due process and equal protection of the law.
What Does This Mean in English?
This means, for our purposes, that the 14th Amendment is only triggered if there is a state action i.e. the state is acting. The "state" includes the state government, federal government, local government, a government officer and the private individual, in our case New York Fashion Week Designers.
How Does a Private Individual Meet the 14th Amendment State Action Requirement?
Designers meet the "state action" requirement if their conduct shows state action. Otherwise, they are private individuals acting privately and their actions, hate it or love it, need not comply with the constitution.
What is the Specific Test of "State Action?"
State action, under the law, is found where a state or private individual: 1) performs exclusive public functions, or 2) has significant state involvement in their activities.
There are a couple of cases that we lawyers like to quote to show how the court has defined "public functions." They include Marsh v. Alabama, 326 U.S. 501(1946), and Hudgens v. NLRB, 424 U.S. 507 (1976).
I will let my fashionentlaw.com legal colleagues and law students interested in further exploring these cases to look them up. For our purposes, just know the Supreme Court has, to date, only found that running a town and running an election for public office are exclusive public functions.
So, let's focus on the second test of this "state action" requirement.
What Does it Mean to have "Significant" State Involvement?
Under this test, if the City of New York affirmatively facilitates, encourages, or authorizes acts of discrimination by its citizens, then state action exists and we can then drag these designers into court to make them stop doing what they are doing, or in the alternative, make the City of New York stop facilitating or encouraging such discriminatory acts.
We have to show that New York city AFFIRMATIVELY facilitates, encourages, or authorizes acts of discrimination against Black models.
What does that look like?
If the City of New York said, "you can't hire black models for the runways, or allow black designers to show at Fashion Week, who may hire black models, we would have an issue." (See Shelley v. Kramer, 334 U.S. 1 (1948)). We don't have such situation under these facts. Here, New York fashion week designers are private individuals making their decisions to hire only white models to execute their "artistic" vision. So, the City of New York is not involved.
Well, what about IMG, the event producers? Can we get the City through its dealings with IMG or IMG?
Aggressive trial lawyers know that you do not stop at just one Plaintiff, you have to look at the big picture and see all possible relevant Plaintiffs that can and should be sued anytime you institute a lawsuit. For over a decade, IMG produced a show at Bryant Park in New York City and just stopped about three years ago. The park is owned by the city of New York.
The City of New York benefitted from the actions of IMG who rented to designers it knew or should have known historically discriminate against Black models as evidenced by the far and very few Black models that have graced the runways of New York fashion Week.
Arguably, the fact that IMG obtained permits/licenses, at least at Bryant Park, for years until just recently (three years ago) and probably has certain permits or licenses it still needs from the city to produce its shows at Lincoln Center, should qualify a "significant" state action, not so?
Is the City sanctioning the discriminatory actions of the event producers so that industry trial lawyers, in behalf of their clients, can sue IMG, to put indirect pressure on the designers to force the needed change?
In a Supreme Court case called Moose Lodge v. Irvis, 407 U.S. 163 (1972), the Court said granting a license (in that instance a liquor license) and providing essential services (police, fire, water, power etc.) to a private club that discriminated against certain members and guests on the basis of race, was NOT enough to constitute state action.
By analogy, the law appears well settled here so that IMG is in the clear.The problem here is that it is not enough to say New York City, you "permitted" IMG to continue its racial discrimination against Black models via way of your designer clients who participate in IMG's production. There has to be more legal bite to make this stick in a courtroom.  I don't see it.
This is where this race discrimination issue within the industry that continues to tear it apart becomes even more complicated.
We have just seen the stumbling block of overcoming the state action requirement. However, even if we were to successfully prevail in showing state action, what about the apparent tension with the equal protection rights i.e. stop race discrimination and First Amendment rights. As Americans, we all enjoy the freedom to express ourselves i.e. our freedom of speech.
White and non-White designers who express themselves through their creativity and choose to hire only white models to execute their creative vision are, arguably, exercising this fundamental right. As such, they cannot be forced, unlike the business owner in other industry sectors, to execute their creativity on Black models when it is not a fit "aesthetically."
So, even if we succeeded in getting past the steps of the courthouse into the courtrooms, I am unsure our fashion trial lawyer community would stay very long in the courtroom, at least for now.
So, what gives? What then is the solution?
My sense is that the mobilization of social media to educate and raise awareness by showing the psychological impact on Black models, the mobilization of Black and White models alike, Black celebrities like Beyonce, Rihanna (yeah, Rihanna), the bold calling out of designers who exhibit these "racist acts", and exercising the purchasing power of Blacks by not purchasing from these designers, can have a more potent detrimental economic blow/impact in the pockets of these designers, forcing a change in the status quo.
I also think we need to hear the affected Black models truly share their stories on their personal experiences and the impact on their lives with the public. When you look at the campaign models are waging against sexual harassment, it is working because models are now telling their collective stories to the public.
We are saying from the time you are an underage model to an adult, especially as a female model, although male models also go through this harassment at alarming rates, you are solicited for sex, sexually harassed and the work environment of the clients you are sent to is hostile and unsafe. We also now have a face and organization, a younger face, to this worthy cause. We need to see the same kinds of stories told and humanized for Black models by the newer incoming class of Black models.
While it is commendable that Iman, BethAnn and Naomi get up to fight for the newer generations of Black models, we really need to see these young faces, both Black and African models, join forces like those who have gone before and truly put a face and story to this.
On my end, can the legal justice system save the day on this thorny fashion law issue? I believe so. If you look at our history as a country and where our fundamental individual rights have been trampled upon, the ultimate end to such trampling of our rights has been when the battle is taken into the courtroom. From race to gender, nationality et al.
Therefore, I believe this battle will most likely be fought and won in the courtroom. I also believe that true fashion trial lawyers never, ever give up. It may take a while but we remain relentless in rolling our sleeves, delving into both hardcopy archaic and electronic law books, staying on the pulse of new media and technology, looking for and coming up with intellectually honest, yet creative arguments and the right test case to take the modeling industry's customary and implicit pre de-segregation practices into an era that aligns with the times.
An era where truly, long legged beauties, of all races, are on the runway reflecting the realities of our present society. Then again, there is always yet another legal battle lurking somewhere. Let's focus on this one, for now.
What are your thoughts? Your solutions? How do we tackle this difficult issue? Let me know. I want to hear from you all: fashion industry designers, models, modeling agencies, fashion law colleagues alike.
Cheers,
Uduak
Fashionentlaw™ is the brainchild of Uduak Oduok (Ms. Uduak), an ex-fashion model and industry veteran turned Fashion and Entertainment lawyer. The law blog discusses hot topics in pop culture arising primarily out of the fashion industry.
As a legal practitioner, Ms. Uduak has over two decades of experience counseling individuals and businesses within and outside the creative community. She has counseled designers, apparel manufacturers, models, photographers, retailers, graphic designers, musicians, public relations specialists, and athletes, among others, on diverse legal issues including business formation, licensing, trademark and copyright matters, contracts, intellectual property and contract disputes. She is also an Adjunct Professor.
To arrange a consultation to discuss your case, contact her today at 916-361-6506 or email (uduak@ebitulawgrp.com).
Full bio: Ms. Uduak Bio/
Twitter @uduaklaw