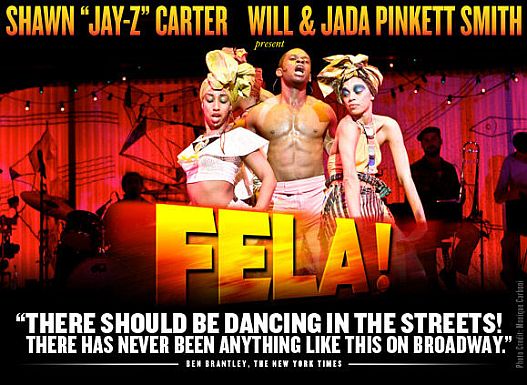 New York Times reports the following:
"A Brooklyn photographer is suing the producers of the Broadway musical "Fela!" in federal court for copyright and trademark infringement, seeking at least $150,000 in damages for their use of her 1977 photograph of the legendary Nigerian nightclub of the Afrobeat musician Fela Kuti.

The lawsuit, filed Monday in Manhattan, argues that the "Fela!" producers did not seek or have the permission of the photographer, Marilyn Nance, to use the image of the nightclub, known as the Shrine, in a projection shown during the musical. Ms. Nance's lawyer, Edward C. Greenberg, said in an interview that the image is used during 40 percent of the show and is rendered in a "Fela!" souvenir book.

"My client's photograph of the Shrine becomes an iconic image during the musical, a key part of the set design, and we will ask the jury to uphold her copyright protections," Mr. Greenberg said. . ."
You can certainly read the rest of the article but before you do, let's address the key issues here raised by the alleged copyright and trademark infringements of Nance's photograph. Actually, there is a stronger case for copyright infringement so my focus is narrowly tailored to that issue.
Hmm . . Where Have We Seen This Before?
Aha! Remember when two photographers sued Oprah in 1997 for ownership of 11images used in her fitness book? The suit was settled in 2000.
What Law Governs?
US Federal Copyright Law
Who Is the Owner of the Photo?
Nance given the facts and barring any evidence to prove otherwise.
What Does This Mean Under Copyright Law?
As the author of the work, Nance has the exclusive right to prevent others including FELA! Producers Jay-Z, Will Smith and Jada Pinkett (I know can you imagine?) from using the work without permission.
How Did Nance Create this Copyright?
Under the law, she created it the moment her work was "fixed in a tangible medium of expression."
Ms. Uduak (As Some Call Me) Could you Please Speak English?
Sure. 🙂 To create a copyright, Nance's work MUST be: Original [creative intelligence] AND must be fixed in a concrete form of expression. For example,  the picture at issue here. Ideas are not protected. It's in your brain. Put it down on paper and now the law steps in to protect you.
Did Nance Have to Register Her Work with the US Copyright Office?
The NY Times article excerpted above indicates Nance did not register the work until FELA! began. 11nominations and 3 Tony Awards later, of course any lawyer, in their right mind, would tell Nance to register her work. Did she have to register the work? No. She took the picture and that triggered copyright protection.
What is the Significance of Registration?
Puts the world on notice and gives legal presumption that her copyright is valid.
To sue/bring her infringement action, she MUST register her work!
It also makes it easy to sue & recover. For example, timely registration, within 3 months or even late registration within 5yrs of published work, strengthens her case when others infringe/violate her  copyright(s).
If she registered before her rights were infringed upon, she could recover up to $150,000 & possibly attorney fees when she sues.
The icing on the cake, she doesn't have to prove actual monetary damages.
Are There Criminal Consequences Associated With Copyright Infringement?
Yes. But I doubt Jay-Z or any of the producers will be doing time, anytime soon. The law does say, however, that if you knowingly and intentional infringe on another person's copyrights, you can be fined and do time i.e. be locked up.
The Exciting Clip of FELA! Broadway by the FELA! Camp

Read Full Story here.
Photocredit: Monique Carbini
Cheers,
Uduak
Fashionentlaw™ is the brainchild of Uduak Oduok (Ms. Uduak), an ex-fashion model and industry veteran turned Fashion and Entertainment lawyer. The law blog discusses hot topics in pop culture arising primarily out of the fashion industry.
As a legal practitioner, Ms. Uduak has over two decades of experience counseling individuals and businesses within and outside the creative community. She has counseled designers, apparel manufacturers, models, photographers, retailers, graphic designers, musicians, public relations specialists, and athletes, among others, on diverse legal issues including business formation, licensing, trademark and copyright matters, contracts, intellectual property and contract disputes. She is also an Adjunct Professor.
To arrange a consultation to discuss your case, contact her today at 916-361-6506 or email (uduak@ebitulawgrp.com).
Full bio: Ms. Uduak Bio/
Twitter @uduaklaw