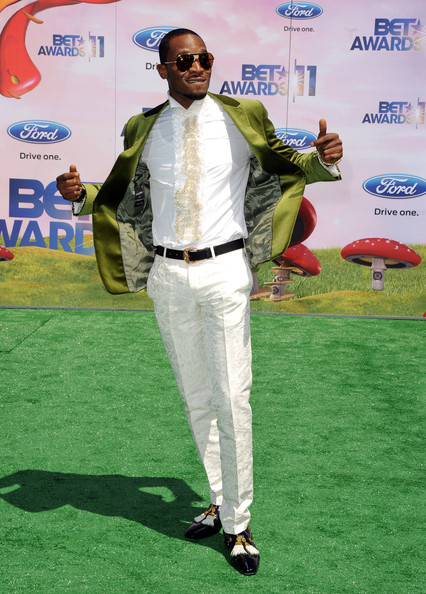 This is an article I thought to write about but honestly got very busy and did not get the chance to do so. But, I was recently catching up with news when I saw this discussion below titled "2011 BET Awards Disses African Nominees" and I could not help but agree with every sentiment raised by the callers and the host herself. It is one I have voiced in the past and during the award that was held ending of June 2011.
Last year, my company Ladybrille Magazine had the privilege of being one of two African publications, the other was Ovation International, to cover the BET 2010 Awards. The event marked the inauguration of the BET Best International Act, Africa category. I was so excited to see Africans finally get the recognition they deserved. Acting in behalf of my company, I made sure we provided extensive coverage of the pre-show events leading up to and post event.
What made it even more exciting was that, literally, a continent full of African citizens were on Twitter and Facebook, many staying up late to catch the awards and see their stars on stage, finally. They waited to watch these nominated African acts get their spotlight on stage but that never happened. What happened? What these extremely talented and popular acts backed by a continent of over 800million people received was 2-3mins spotlight, at best, on BET's one hourly daily show 106 & Park, of which Nick Canon, the host, acted with nothing short of "oshiness" (foolishness) with his (remarks) of what kinds of entertainment content Africans were exposed to on the continent. Further, pre and post show, it was disheartening to see the lack of interest in Africa's extremely talented stars by the media.
The media present simply did not know who these talents were; and BET Network did not appear to have delegated a budget or allocate some resources to promote and advertise these talents or give them their due, the same way it did other nominees nominated. The acts managed to snag an interview on the Wendy Williams show but that did not air (on BET's USA network and only surfaced online (in a social media day and age, a year later), after the show and it wasn't even the full audience experience thing.
This year, I did not attend the event. Nevertheless, I was excited hoping that the network would provide a meaningful opportunity for these stars to shine, on stage, in the USA. When they show up here in the USA, BET can afford to give them one minute of its time on stage for a continent waiting and Africans in the diaspora to be inspired and also beam proudly, among other things. Even if it means all African nominees stepping up to the stage to present an award or say a few words, that is fine.
That did not happen. Instead, once again, its a few minutes on 106 & Park. Nothing meaningful in terms of questions and real introduction to a very important music market, America.
Thankfully, this year, D'Banj signed to GOOD Music just about the same time of all that BET excitement was happening. D'Banj single-handedly, has made mainstream America actually pay attention to Africa.
This makes me wonder, is it time for Africans to get their own African Music Awards, USA? I always wonder, especially as one with an African heritage, why Africans always seem to wait for others to validate their worth. Africa and Africans do not need Western validation. Africans in the USA are a very important demographic and so is the entire continent of Africa filled with African citizens. I feel like I would be belaboring the point to get into detailed analysis and numbers but please google "Africa" and "growth" and see what results you get.
The rapidly expanding investment opportunities in Africa, alone, has many Americans tripping over themselves in an effort to see who gets into the continent, first. Why do Africans always have to wait to be validated?
I think it is time for an African Music Awards, USA. Africans in America who have the event production experience or can afford to hire an events production company, along with those in the music and entertainment business can and should collaborate to create a credible music award show in the USA.
Finding a sponsor for such event, especially a mobile technology company both within and outside the USA, should not be a challenge. What about the media mogul Nduka Obaigbena and many Africans like him who can pull this off? Staging an Arise Africa Music Awards, USA or an Ovation Africa Music Awards, USA where these big players invest and help command the attention Africa deserves, right here on American soil, is a start. It really is getting ridiculous, especially in an age of an explosive African music revolution, to continue to sit and wait on the sidelines to be validated.
African artists and industry professionals, do you want a music awards in the USA, do you want to be televised nationwide, in the USA? Then, go do it yourselves because no one is going to do it for you.
End of story.
NOTE: For the host Gracie Phoenix who says African artists need to do more songs in English, there are so many African artists who do songs exclusively in English. They can be found across the continent and especially in the big African music markets: South Africa, Nigeria, Ghana and Kenya.

Photocredit: Jason Merrit/Getty Images
Fashionentlaw™ is the brainchild of Uduak Oduok (Ms. Uduak), an ex-fashion model and industry veteran turned Fashion and Entertainment lawyer. The law blog discusses hot topics in pop culture arising primarily out of the fashion industry.
As a legal practitioner, Ms. Uduak has over two decades of experience counseling individuals and businesses within and outside the creative community. She has counseled designers, apparel manufacturers, models, photographers, retailers, graphic designers, musicians, public relations specialists, and athletes, among others, on diverse legal issues including business formation, licensing, trademark and copyright matters, contracts, intellectual property and contract disputes. She is also an Adjunct Professor.
To arrange a consultation to discuss your case, contact her today at 916-361-6506 or email (uduak@ebitulawgrp.com).
Full bio: Ms. Uduak Bio/
Twitter @uduaklaw