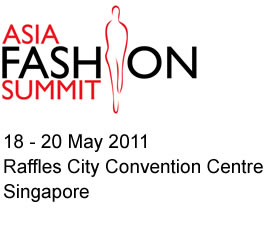 "Macala Wright To Present "New Media's Impact On Asian Consumerism" at Asian Fashion Summit and Audi Fashion Festival in Singapore.
Asia Fashion Summit, Singapore's only premier business conference for the fashion industry, today unveiled a stellar line-up of the world's fashion insiders that it will bring together to speak at the Summit from May, 18-20th, 2011; the Summit's theme of The Rise of Asian Consumerism.
Keynotes, Seminars and Classes include:
* Andrew Wu, LVMH Group Director for China
* Mark Baumann, Head of Visual Merchandising
* Lane Crawford; Simon Gaffney, International Director, Karen Millen
* Eric Jennings, VP Men's Fashion, SAKS Fifth Avenue
* Douglas Benjamin, CEO, Raoul
* Bryan Riviere, Head of Global Sourcing and Manufacturing, Lululemon Athletica
* Hamilton South, Founder and CEO HL Group
* Juliet Warkentin, Global Content Director, WGSN
New Media's Impact On Fashion & Asian Consumerism
* James Gardner, Principal, CREATETHE GROUP
* Daniel Saynt, CMO, Rebecca Minkoff
* Macala Wright, Founder, FashionablyMarketing.Me
The Summit topics will cover strategies that can enhance competitiveness of the fashion business, as well as other business issues needed to sustain growth of the fashion industry in line with the emergence of new consumer trends and behavior. . ." Full Story on Fashionably Marketing Me.
Fashionentlaw™ is the brainchild of Uduak Oduok (Ms. Uduak), an ex-fashion model and industry veteran turned Fashion and Entertainment lawyer. The law blog discusses hot topics in pop culture arising primarily out of the fashion industry.
As a legal practitioner, Ms. Uduak has over two decades of experience counseling individuals and businesses within and outside the creative community. She has counseled designers, apparel manufacturers, models, photographers, retailers, graphic designers, musicians, public relations specialists, and athletes, among others, on diverse legal issues including business formation, licensing, trademark and copyright matters, contracts, intellectual property and contract disputes. She is also an Adjunct Professor.
To arrange a consultation to discuss your case, contact her today at 916-361-6506 or email (uduak@ebitulawgrp.com).
Full bio: Ms. Uduak Bio/
Twitter @uduaklaw