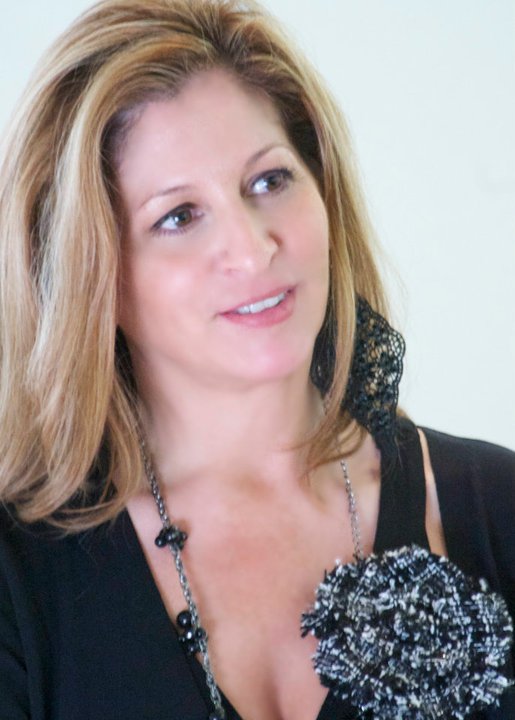 I continue to be highly impressed by Leslie Asfour (Yes she is related to the Three Asfour label. Gabriel Asfour is her cousin), Instructor and Fashion Director for  the fashion program at Delta College in Stockton, California. I took fashion courses at Delta to really get more of the intellectual and historical perspective on fashion, independent of my hands on experience. My initial goal was to attend one of the fashion schools in San Francisco until I called Fashion Group International (FGI) , a while back ,asking for schools they recommended. The representative who answered my call asked my location. I told her. She said, why go all the way to San Francisco when you can go to Delta College which has just as a good a fashion program as some of the schools in San Franciso?
I took her advice and it was one of the best decisions I have ever made. While at Delta, I took some fashion courses from Asfour, which I thoroughly enjoyed.  Overtime, I have now watched Asfour transform the fashion program at Delta  to an even  stronger one.
The fashion program under her leadership has enjoyed publicity on local TV and radio stations, the school's fashion students have visited with some of the world's renowned fashion industry professionals both in the USA and Paris and, in 2009 the fashion program launched the first ever 'Meet the Fashion Industry Insiders' Seminar/Panel. Asfour managed to bring Film Maker Matt Trynauer, who produced "Valentino The Last Emperor," to the college campus for a screening of his film and Q &A. The list really goes on, on Asfour's many accomplishments.
Now she continues the Meet The Fashion Industry Insiders Panel, this time with a focus on interior design; giving interior design students a rare opportunity to meet some of the industry's really experienced professionals. I am highly impressed.
If you will be in the area, you should check it out.
_____________________
MEET THE PANEL:
KERRIE KELLY- Kerrie Kelly Design Lab
Kerrie Kelly, Proprietress of Kerrie Kelly Design Lab, is an accomplished interior designer, author, instructor and multi-media consultant. An ASID certified interior designer and owner of Kerrie Kelly Design Lab, based in Sacramento, she authored "Home Décor, a Sunset Design Guide" published by Oxmoor House in September 2009. The book is still a defining guide to all styles of home décor. In addition to being a published author, she is a certified aging-in-place specialist (CAPS), a subject matter expert for Pearson Publishing, and the Academic Director for The Art Institute of California, Sacramento. Kerrie's start in interior design came from early family influences that allowed her to pursue her studies at Cal Poly – San Luis Obispo, California. Since then, her portfolio includes experiences with Macy's, Ralph Lauren, All American Design and Furnishings, Inc. and Del Webb's Sun City
KEVIN MANLEY- Foodservice Designer/Sales Consultant
Kevin has over 25 years of sales, installation and design in the foodservice industry. He is currently wearing two hats with being employed for eleven years by Yaffee Restaurant Supply in Sacramento and as designer for his own company, KM Design. Kevin has completed projects all over Northern California including Friar Tucks in Nevada City, Bistro 33 at the Mercedes Benz Dealership in Rocklin, Pacheco High School in Los Banos and Maranello's in Fair Oaks. Some of these projects being design and some contracts for equipment. Always changing health codes, mechanical codes and NSF standards keep Kevin busy to stay on top of his trade. Kevin gives a big thank you to Delta College for teaching him auto-cad design. Kevin just recently designed and installed one of the first Mercedes auto dealerships with a full service restaurant inside the dealership showroom in Rocklin.
MARIKO PARRIS- LEED Certified Designer
Mariko is a space planner and a Leadership in Energy and Environmental Design accredited professional for Durst Interiors in Lodi. Parris received a bachelor's degree from California State University, Sacramento and pursued a certificate in green building and sustainable design with the University of California, Davis. Previously, she worked as a designer for Ambiance Interiors and was co-owner of Parris Tile & Stone. Parris is a member of the U.S. Green Building Council and the International Interior Design Association. Mariko is currently space planning the move of the city hall departments to the city owned WaMu building. She is also space planning projects at the HSA County building downtown Stockton.
ZACK ROSSON- Lighting Specialist, Lumens Light and Living
Zack, a product of San Joaquin Delta College, studied Interior Design at SJDC and moved to Sacramento to expand his experience in the design industry. After a few experiences, he landed at Lumens Lighting in Sacramento. Through his career, he's created lighting design for restaurants, hotels, homes and salons. His projects include:The AVE Lounge, Stockton; Wine and Roses, Lodi; Wasabi Sushi: Folsom; Blade Barber and Sugar Salon: Sacramento; Deda Salon at the Sterling Hotel: Sacramento;The Shady Lady Saloon: Sacramento; Christmas and Co: Old town Sacramento; Flowjo Yoga, Davis, just to name a few. There are many many more residential and commercial spaces, including lighting jobs with Kerrie Kelly Design Lab. Kerrie and Zack will be festured in Sacramento Magazine together for the Lighting. He was also featured in her book Home Décor.
The event will begin at 5 pm with a general forum and Q & A with the panelist.
Then breakout sessions will allow attendees to talk with the insiders one-on-one and develop a greater understanding of the career.
WHAT: Meet The Industry Insiders in Interior Design
WHEN: Wednesday, February 23, 2011 from 5-7 pm
WHERE: Danner Hall on the Delta College Campus.
COST: The event is free and open to the public.
For parking, maps and direction, visit www.deltacollege.edu.

Leslie's photo shot by Stan Rapada
Fashionentlaw™ is the brainchild of Uduak Oduok (Ms. Uduak), an ex-fashion model and industry veteran turned Fashion and Entertainment lawyer. The law blog discusses hot topics in pop culture arising primarily out of the fashion industry.
As a legal practitioner, Ms. Uduak has over two decades of experience counseling individuals and businesses within and outside the creative community. She has counseled designers, apparel manufacturers, models, photographers, retailers, graphic designers, musicians, public relations specialists, and athletes, among others, on diverse legal issues including business formation, licensing, trademark and copyright matters, contracts, intellectual property and contract disputes. She is also an Adjunct Professor.
To arrange a consultation to discuss your case, contact her today at 916-361-6506 or email (uduak@ebitulawgrp.com).
Full bio: Ms. Uduak Bio/
Twitter @uduaklaw