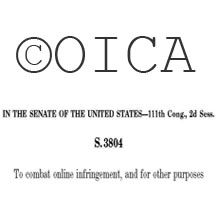 The folks at Sheppard Mullin Fashion and Apparel blog take on the 'Combating Online Infringement and Counterfeits Act' (COICA) which has just made its way through the Senate. They also delve into the meaning and implications of the act.
"Online piracy and internet counterfeiting are unfortunate realities in our Information Age. On the Internet, a counterfeiter can sell consumers a pair of counterfeit Louboutins or a fake Hermes Birkin bag purchased with the simple click of a mouse. Other online pirates can sell consumers unauthorized copies of their favorite television show, movie, or music with impunity. In response to the onslaught of online counterfeiters, Senate Judiciary Committee Chairman Patrick Leahy (D-Vt) and senior Republican member Orrin Hatch (R-Ore) have introduced the Combating Online Infringement and Counterfeits Act ("COICA")(S. 3804)[1], a bipartisan bill that would give the Justice Department an expedited means to track and shut down unlawful domains devoted to the unauthorized downloading, streaming, and sale of copyrighted content and counterfeit goods. On November 18, 2010, the Senate Judiciary Committee unanimously voted . . ." Full Story on Sheppard Mullin.
~Photocredit: Allmedia
Fashionentlaw™ is the brainchild of Uduak Oduok (Ms. Uduak), an ex-fashion model and industry veteran turned Fashion and Entertainment lawyer. The law blog discusses hot topics in pop culture arising primarily out of the fashion industry.
As a legal practitioner, Ms. Uduak has over two decades of experience counseling individuals and businesses within and outside the creative community. She has counseled designers, apparel manufacturers, models, photographers, retailers, graphic designers, musicians, public relations specialists, and athletes, among others, on diverse legal issues including business formation, licensing, trademark and copyright matters, contracts, intellectual property and contract disputes. She is also an Adjunct Professor.
To arrange a consultation to discuss your case, contact her today at 916-361-6506 or email (uduak@ebitulawgrp.com).
Full bio: Ms. Uduak Bio/
Twitter @uduaklaw