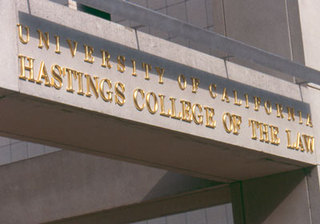 I had the privilege of attending two of the top law schools in the country, Georgetown Law Center and UC Hastings College of Law, and to have experienced their Moot Court Programs. I recently received news from UC Hastings that the School's Moot Court Team is now ranked #1 nationally. This is great news. For my colleagues and fellow UC Hastings Alumni reading this, catch an excerpt of the news below:
"The UC Hastings Moot Court program has officially earned the top annual ranking in the country. "Mooters" won four National Championships, three Regional Championships and the Traynor State Championship in 2010-2011. Teams wrote their way to victory with 18 brief awards and oral advocates won 20 individual oralist awards, including four National Best Oral Advocates and a Best International Oral Advocate trophy.
The 2010-2011 Moot Court season is dedicated to Justice Marvin and Jane Baxter for whom the newly renovated, state-of-the-art Justice Marvin and Jane Baxter Appellate Law Center is named. "This sophisticated ultra-modern appellate courtroom is an amazing addition to our UC Hastings Moot Court program," says Toni Young '76, Director, Moot Court, Appellate Advocacy, Legal Writing & Research. "It is an awesome home for the best Moot Court team in the nation, and a wonderful location for real-world appellate arguments."
UC Hastings has the full story.
Cheers,
Uduak
Photocredit: Transactional law blog
Fashionentlaw™ is the brainchild of Uduak Oduok (Ms. Uduak), an ex-fashion model and industry veteran turned Fashion and Entertainment lawyer. The law blog discusses hot topics in pop culture arising primarily out of the fashion industry.
As a legal practitioner, Ms. Uduak has over two decades of experience counseling individuals and businesses within and outside the creative community. She has counseled designers, apparel manufacturers, models, photographers, retailers, graphic designers, musicians, public relations specialists, and athletes, among others, on diverse legal issues including business formation, licensing, trademark and copyright matters, contracts, intellectual property and contract disputes. She is also an Adjunct Professor.
To arrange a consultation to discuss your case, contact her today at 916-361-6506 or email (uduak@ebitulawgrp.com).
Full bio: Ms. Uduak Bio/
Twitter @uduaklaw