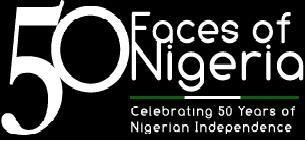 Nigeria celebrates 50years on October 1st, 2010 and I am truly honored and humbled to be a part of the 50 Faces of Nigeria; a new groundbreaking documentary spotlighting fifty of the most prolific Nigerians around the world. The film captures the true heart and soul of Nigeria and its people like never before.
The fifty include inspiring Nigerians in  the fashion and entertainment industries such as  Singer [N]neka, Designers Chris Aire and Lisa Folawiyo (Jewel by Lisa), Storm 360 Executive Obi Asika, Publisher Bola Atta and Supermodel Oluchi.
"These influential Nigerians from all over the world are being interviewed with the overarching question: "Is Nigeria truly free?" While stirring the hearts and spirits of every participant and viewer, the documentary dispels the stereotypes of the country's "lack" in the area of progress and at the same time creates a platform for making lasting changes that will benefit this generation and those to come."
Please visit the site and stay tuned.
Directed By: Korstiaan Vandiver
Produced By: Chika Chukudebelu, Faith Kakulu, Kim Vandiver, Korstiaan Vandiver
Website: www.50FacesofNigeria.com
Facebook: Join the facebook community here.
YouTube Channel: www.YouTube.com/user/50FacesofNigeria
Twitter: www.Twitter.com/50FacesNigeria
Indie GoGo: http://www.indiegogo.com/50FacesofNigeria
Fashionentlaw™ is the brainchild of Uduak Oduok (Ms. Uduak), an ex-fashion model and industry veteran turned Fashion and Entertainment lawyer. The law blog discusses hot topics in pop culture arising primarily out of the fashion industry.
As a legal practitioner, Ms. Uduak has over two decades of experience counseling individuals and businesses within and outside the creative community. She has counseled designers, apparel manufacturers, models, photographers, retailers, graphic designers, musicians, public relations specialists, and athletes, among others, on diverse legal issues including business formation, licensing, trademark and copyright matters, contracts, intellectual property and contract disputes. She is also an Adjunct Professor.
To arrange a consultation to discuss your case, contact her today at 916-361-6506 or email (uduak@ebitulawgrp.com).
Full bio: Ms. Uduak Bio/
Twitter @uduaklaw