This is an invitation to have you join me for the 2021 Music Business Seminar Series to be held by California Lawyers for the Arts. The series kicks off on February 10, 2021, with fellow esteemed colleagues who will be speaking.
I highly recommend this conference especially if you are a recording artist, songwriter, producer, artist manager, or a music executive or business owner who routinely works with these industry professionals.
My panel is scheduled for February 18, 2021. Please see the flyer for details and follow the link below to register.
Cheers,
~Ms. Uduak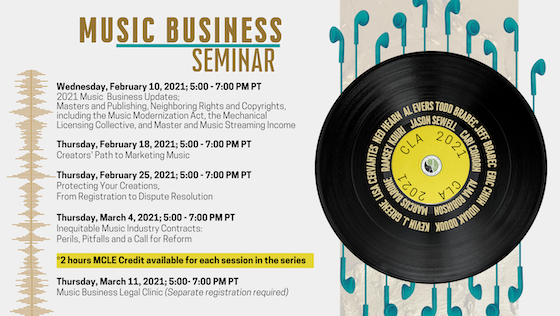 Register at https://www.calawyersforthearts.org/event-4125966.

FASHIONENTLAW blog, authored by Ms. Uduak, was first established in 2010. It is now incorporated, in 2021, as part of the FASHIONENTLAW LAW FIRM blog. The blog is for informational purposes only and provides legal commentary and analysis on the intersection of mainstream America pop culture and the law. It also provides updates on Ms. Uduak's speaking engagements and press activities. For inquiries on topics covered on this site, please get in touch with our firm. If you seek legal representation for your specific legal needs, please schedule a consultation.
📞Call 916-857-9970 or
🌐Email ([email protected])
💻 Schedule a consultation directly on this site.