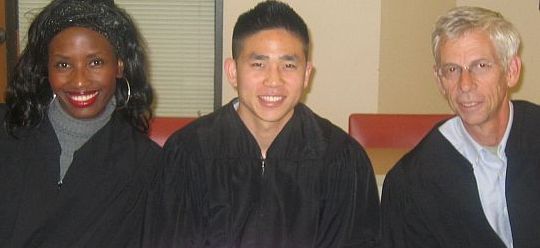 Itold you all about an opportunity to judge the University of California (UC) School of Law Intra-Moot Court Competition. Well, I indeed got a chance to do just that on October 18th, 2010. A little background on UC Davis School of Law.
UC Davis is one of the top five schools in California holding its own alongside big names like UC Hastings, Stanford, UCLA and Berkeley law schools. It is also among the top 30 in the nation.
As of 2009, 89% of its graduating class passed the California bar the first time. Yay and Phew! California bar ranks the toughest bar in the nation. Coming close is New York and then Virginia.
In any event, I had the privilege of judging the intra-moot court competition at the school. I along with third year law student Kyle Morishita (who unbeknown to me was Vice-Chair of the Moot Court Board) and practicing attorney and colleague, Francis Coates.
The students argued a fictional constitutional law First Amendment Case.The problem was written by one of the many brilliant students at UC Davis School of Law, Ms. Camille Papini-Chapla.

The Background
"This is the case of Schooley v. Huffington Beach City Unified School District. The problem addresses to what extent the First Amendment protects a teacher's speech inside a classroom. The United States Supreme Court has not addressed this specific issue, but it has developed separate tests under the First Amendment for evaluating student speech and the speech of a public employee. There is currently a circuit split as to whether the speech of a school teacher inside the classroom is best evaluated under the test for public employees (the Pickering-Connick test) or the test for students (the Hazelwood test)."

The Short Facts
"The problem is set in Huffington Beach, Unicornia, where Mr. Schooley teaches American History at the local high school. The Huffington Beach City Unified School District fires him after a lesson on the civil rights movement causes a number of parents to complain about his teaching methods. During his controversial lesson, Mr. Schooley demonstrates to the class what it would be like to watch a sit-in at a lunch counter during the civil rights movement by singling out and berating a student. Over the course of the lesson, Mr. Schooley yelled at thestudent for several minutes, eventually calling him a "retard" and telling him to "F—ing leave."This student had been informed of the lesson in advance and consented to being used during the demonstration. The other students, while initially stunned, found the class inspiring. But, when several parents hear about the lesson, they get together and request Schooley's termination.


The District has several meetings to discuss this issue, one of which attracted a number of
parents and community members. At the meeting, a number of parents and former students spoke out in support of Mr. Schooley. Those opposed to his methods argued that crude and degrading language and behavior had no place in their schools–no matter what the purpose. Mr. Schooley exhausted all administrative appeals, and then sued for wrongful termination due to a violation of his First Amendment right to free speech in state court. Both parties stipulated that the facts, as they appear on the record, are correct.

The trial court granted the District's motion for summary judgment. It applied the Pickering-Connick test and found that the First Amendment did not protect his speech, and that the school board had the right to terminate him for his lesson. On appeal, the Court of Appeals for the Second District of Unicornia affirmed. The Supreme Court of Unicornia has granted certiorari on the case."
The Legal Issues?
"1) Whether the trial court erred in using the Pickering-Connick test, as opposed to the
Hazelwood test, to evaluate whether Mr. Schooley's speech was protected under the
First Amendment.
2) If, under the proper test, Mr. Schooley's speech was protected by the Constitution."
How Did the Students Do?

Overall, the students did well. They came prepared, understood the issues and could articulate their positions. There were, of course, a few that stood out and exceeded my expectations. They seemed to have really thought about the far reaching implications for society at large,pros and cons, if we adopted their positions.
How Did I Do?
Well the school gave judges a UC Davis Law Mug and a 'Thank You' card. Yay! I like nice and courteous people. I also received the emails below subsequent to my judging:
"Dear Ms. Oduok:

It was an honor and a pleasure to meet you and judge alongside you.  Ms. [C], one of the students you judged, attended my office hours today.  She was extremely impressed with you and asked for your contact information.  Is it [okay] with you if I give it to her?  Thank you again." ~KM

"Dear Ms. Oduok,

I'm writing from the UC Davis Moot Court Program. Our Vice-Chair, Kyle Morishita, mentioned that you were an excellent judge earlier this week.  He also mentioned that he had discussed possibly having you serve as a coach or practice judge for our interschool competition teams. . . [w]e would be delighted if you could judge a practice round or two.  .  ." ~SG

"Thank you so much for judging our moot court competition.  The moot court board members and students really enjoyed your judging and feedback.  Would you be interested in judging again? . . ." ~AV & JS
Will I go back? But of course. Intellectual stimulation and debate is something I find hard to turn down. 🙂
Cheers,
Uduak
Fashionentlaw™ is the brainchild of Uduak Oduok (Ms. Uduak), an ex-fashion model and industry veteran turned Fashion and Entertainment lawyer. The law blog discusses hot topics in pop culture arising primarily out of the fashion industry.
As a legal practitioner, Ms. Uduak has over two decades of experience counseling individuals and businesses within and outside the creative community. She has counseled designers, apparel manufacturers, models, photographers, retailers, graphic designers, musicians, public relations specialists, and athletes, among others, on diverse legal issues including business formation, licensing, trademark and copyright matters, contracts, intellectual property and contract disputes. She is also an Adjunct Professor.
To arrange a consultation to discuss your case, contact her today at 916-361-6506 or email (uduak@ebitulawgrp.com).
Full bio: Ms. Uduak Bio/
Twitter @uduaklaw